Harbor Launches First Institutional-Grade Platform for Tokenizing Private Securities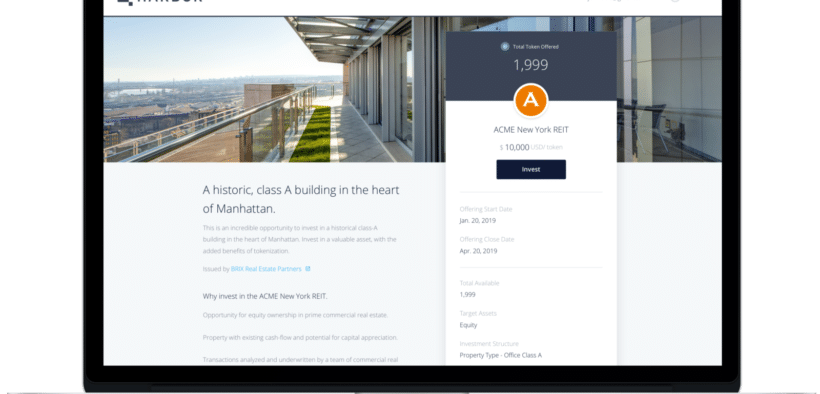 SAN FRANCISCO and CHICAGO ​–​ ​Nov. 27, 2018​​ — ​Harbor today launched its blockchain-based platform and compliance protocol built to transform private securities like commercial real estate offerings and investment funds into a more accessible and liquid form of private investment. Harbor is the first security token platform addressing the security, compliance and ease-of-use requirements of institutional investors and asset owners.
Announced today, the first offering on the Harbor platform is a tokenized REIT from Convexity Properties — a DRW Company, representing $20M USD of private equity in The Hub at Columbia, a premier off-campus, student housing high-rise serving the University of South Carolina. Equity is divided into 955 shares (tokens) priced at $21,000 each.
"We are excited to partner with Convexity Properties to introduce a more accessible and liquid form of commercial real estate investment through the Harbor platform," said Josh Stein, CEO of Harbor. "Harbor is transforming private investments by making it easier and more cost effective for issuers and broker-dealers to syndicate more widely, raising capital from a potentially broader and more global investor pool. In turn, investors can access opportunities previously out of reach through lower entry points, and co-invest alongside premier companies like Convexity Properties with the potential for enhanced liquidity."
"We believe that blockchain technology has the transformative power to disrupt peer to peer interactions and are proud to partner with Harbor to tokenize real world assets," said DRW Founder and CEO Don Wilson. "Our work has always been focused on making capital markets more efficient, and we look forward to leveraging our diverse portfolio of companies to build a more liquid model for commercial real estate investments."
Transforming private securities with blockchain technology
Tokenization is the process of digitally tracking ownership using blockchain technology. For private securities, the technology transition to tokens will enable new capabilities while keeping ownership structures the same as traditional securities.
Historically, private investments like commercial real estate have had very little liquidity, with no significant secondary market due to the complex regulatory requirements that govern private placements. Harbor's core technology solution unlocks potential liquidity by automatically enforcing compliant transfers between buyers and sellers around the world, which reduces the frictions and barriers to secondary market transfers. Private investments can become more liquid, making it possible to trade 24/7/365, worldwide, on licensed trading platforms or peer to peer, with near instantaneous settlement and no counterparty risk, all in accordance with applicable transfer rules.
"The launch of Harbor and the Hub at Columbia REIT marks the beginning of an exciting new model for real estate private equity, where investors can access institutional-grade properties in a more accessible and liquid form," said Michael Solimene, founder and CEO of Trophy, an anchor institutional investor in the Hub at Columbia REIT. "Acquiring the highest quality tokenized real estate, Trophy is able to provide our investors with unique opportunities. As more quality single-asset real estate security tokens become available, Trophy will be able to execute on investment strategies not possible before."
Harbor platform delivers first institutional-grade onramp for issuers and investors
Harbor provides an end-to-end service, creating an easy, secure and compliant experience for issuers and investors. The Harbor platform streamlines investor onboarding (e.g. KYC/AML, accreditation, tax forms), signing of documents, funding, and a myriad of other tasks, making it faster, easier and more cost-effective to syndicate investments more widely among larger groups of investors. The Harbor compliance protocol enforces the complex rules and regulations governing securities on issuance, and more importantly, on secondary transfers, wherever they occur. The Harbor solution helps maximize the potential for liquidity by removing friction to trade and by enforcing compliance in transfers across multiple venues simultaneously.
The platform also meets the security and compliance needs of institutional issuers and investors. This includes a recently announced partnership with BitGo in which Harbor will provision BitGo Business Wallets for investors and BitGo Custody for issuers, and BitGo will handle the custody of cryptocurrency funds during the fundraising process.

More Articles:
Tokeny Solutions Partners with Inveniam to deliver Data Integrity and Price Discovery for Private Securities
Liquefy Gains In-Principle Approval for the First Licensed Tokenized Securities Private Financing Platform in UAE