Tokenization and the emerging digital asset market infrastructure
03mar17:0018:00Tokenization and the emerging digital asset market infrastructure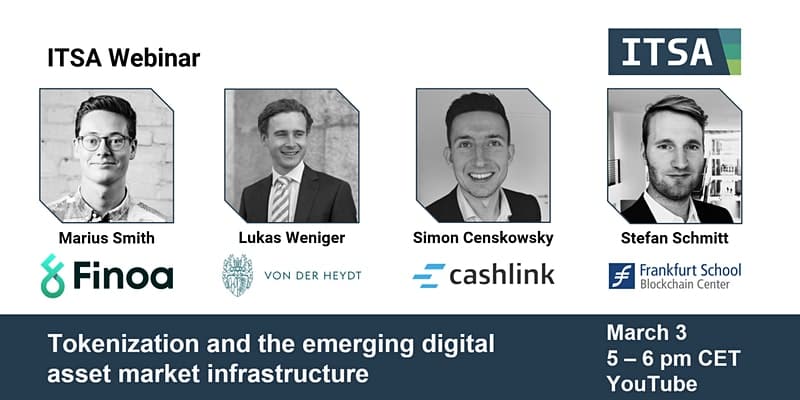 Event Details
About this Event
TOPIC
Tokenization is one of the major value propositions of blockchain technology. To be used to its fullest potential, new services are born and a new digital asset market infrastructure is emerging. In this webinar, we talk with industry leaders about tokenization, the token lifecycle, secondary markets, and additional services such as custody and the Euro on blockchain.
INFORMATION
Date: Wednesday, MAR 3
Time: 5:00 to 6:00 pm CET
Language: English
Mode: YouTube livestream (URL will be sent out after the sign up)
PANEL
Marius Smith (Finoa): Marius Smith is leading Business Development efforts at Finoa – a digital asset custodian servicing institutional investors and corporations globally. Prior to joining Finoa, Marius was employed by N26 and Google and holds a M. Sc in Int. Marketing and Management from Copenhagen Business School.
Lukas Weniger (Bankhaus von der Heydt): Lukas Weniger is Relationship Manager at Bankhaus von der Heydt. He is involved in setting up the digital banking division. Among other things the bank offers blockchain-based payments and the safekeeping of digital assets. assets. Customers have the opportunity to trade cryptocurrencies directly from the bank's custody on several exchanges. His knowledge in the field of blockchain systems could be used by Lukas Weniger in the past in the execution of several projects. As part of his work at von der Heydt, he was involved in the development of a platform that enables investors to create structured financial products based on the Stellar Blockchain.
Simon Censkowsky (Cashlink): Simon Censkowsky, responsible for Business Development at Cashlink Technologies is the first point of contact for clients at Cashlink. He is also in charge of Cashlink's strategically important collaborations with other market participants. Simon is an expert in the field of digital securities and blockchain with extensive academic background and practical experience in this field.
Moderator:
Stefan Schmitt (Frankfurt School Blockchain Center): Stefan is a project manager at the Frankfurt School Blockchain Center, working on the Horizon 2020 project BLOCKCHERS and leading the educational efforts of the FSBC. He works as a manager for the International Token Standardization Association, focussing on the International Token Classification framework and PR. He is the Manager for Institutional Clients at the blockchain infrastructure provider Blockdaemon.
more
Time

(Wednesday) 17:00 - 18:00(GMT+01:00) View in my time
Organizer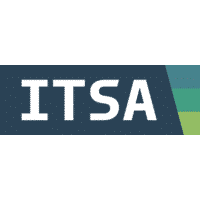 Organizer of Tokenization and the emerging digital asset market infrastructure
Constantin Ketz Zehdenicker Str. 20 10119 Berlin Germany
Virtual Event Details
RUN
Event has already taken place!