STO Day
17apr00:0000:00STO DayLeveraging Security Tokens and Blockchain to Build the Future of Capital Markets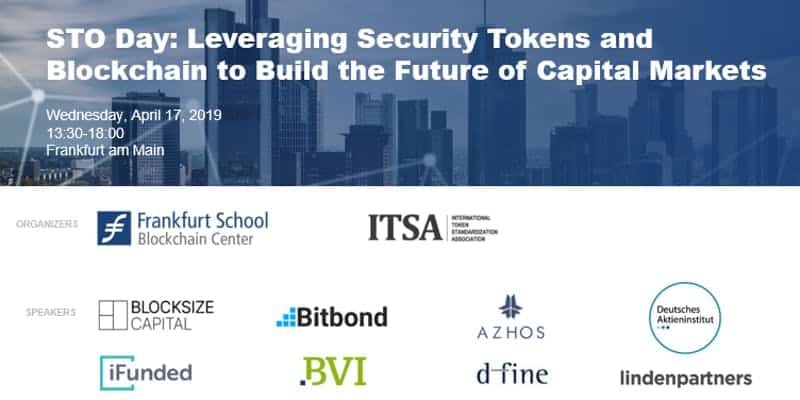 Event Details

Security token offerings (STOs) are the future: in a couple of years, all kinds of securities will run on blockchain-systems. This future starts now after the German Federal Financial Supervisory Authority (Bafin) has approved the first STO in Germany on the basis of the crypto currency Stellar. With this event, we have several landmark companies presenting in Frankfurt: Bitbond, the first Bafin-approved STO, lindenpartners advising several STO projects to be approved by Bafin, AZHOS enabling silos in the chemical industry paying with Euro-on-ledger, d-fine developing a STO platform, Blocksize Capital working on multiple STOs, iFunded tokenizing real estate – even a real estate object in Frankfurt, BVI representing the interests of the German fund industry and Deutsches Aktieninstitut working in a close dialogue with policy makers on the development of capital markets and their parameters.

Having those developments in mind, this conference aims to discuss the future of capital markets and its implications on the world. We are looking forward to meeting you to join our discussion!
SPEAKERS
Prof. Dr. Philipp Sandner, Frankfurt School Blockchain Center
Radoslav Albrecht, Bitbond
Eric Romba & Dr. Robert Oppenheim, lindenpartners
Marcel Kuhs, AZHOS AG
Dr. Matthias Hirtschulz, d-fine
Christian Labetzsch, Blocksize Capital
Michael Stephan, iFunded
Tim Kreutzmann, BVI
Michaela Hohlmeier, Deutsches Aktieninstitut
CONTENT
In the last two years, the blockchain and especially the crypto assets ecosystem acted like a roller-coaster. At first, there was a massive rise with a lot of new projects coming up picking up terms like "blockchain" and "ICOs" to get attention. Along with the subsequent downfall, a lot of dubious projects went away. Now in the year 2019, there is a new way of digital fundraising: "Security Token Offerings". This might be another approach to revolutionize the traditional form of security issuing and investing.
Subject of this conference will be the risks and opportunities for security tokens. We will discuss similarities as well as differences of this new technology in comparison to traditional ways of funding like initial public offerings and investments of venture capital companies or digital ways like initial coin offerings and initial exchange offerings. Following questions will be answered:
How important will cryptocurrencies, tokens, STOs and other types of digital assets be in the future?
Which impact will STOs have on the VC industry?
Will cash-on-ledger disrupt financial business models?
Which new business models exist for asset managers and brokers?
Should investment funds assess such digital assets? How can crypto assets be assessed?
Which blockchain startups should be watched?
What are the advantages of security tokens in comparison to traditional stocks?
more
Time

(Wednesday) 00:00 - 00:00(GMT+00:00) View in my time
Frankfurt School of Finance & ManagementAdickesallee 32-34