25may15:0017:00Security Token Custody Webinar by Polymath: Who holds the keys?What You Need to Know About Security Token Custody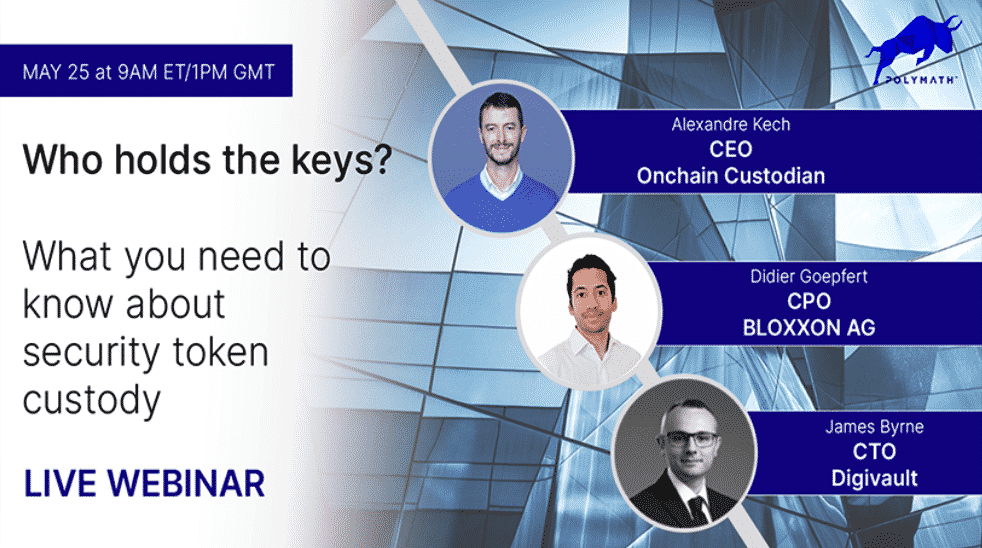 Event Details
5 things we'll cover in this webinar
Digital Custody and Global Exchange: Learn how custody providers enable the exchange of security tokens and why digital asset custodians are becoming increasingly important to issuers, investors, and the global digital securities ecosystem.
The Role of the Custodian: Find out how custodians provide a key piece of the puzzle in transactions, and how custodians, exchanges, and other providers work together to enable clearing and settlement for security tokens.
Evolving Landscape: Explore how regulations play a role in custody of security tokens and digital assets, with a focus on recent regulations affecting custody providers.
2020 vs 2021:Understand the changing security token landscape and explore industry shifts as more institutions embrace the benefits that asset tokenization brings to markets.
Custody Solutions: Hear from experts about what trends they see gaining steam in the market, including whether self-custody is going to become a larger industry focus.
more
Time

(Tuesday) 15:00 - 17:00(GMT+02:00) View in my time