Panel Discussion: Securitization of real-world assets
28jun13:0014:00Panel Discussion: Securitization of real-world assetsPanel Discussion: Securitization of real-world assets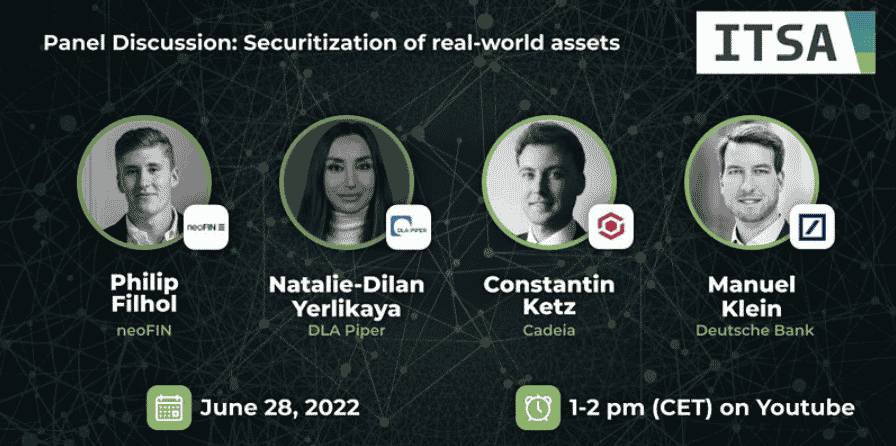 Event Details

On a blockchain, a token is a digital representation of a unit of value, including digital assets or digital representations of real-world assets. Securitization involves combining different types of assets that generate cash flows (e.g., mortgages) and selling their aggregate cash flows to third-party investors as securities, i.e., tradable financial assets.

This digitization of value enabled by blockchains opens up new opportunities for businesses. For example, the traditional financial system is in many ways less fast, fluid, and flexible than the Internet. Tokenizing value gives companies the capacity for secure, scalable, and fast cross-border asset transfer. Furthermore, we would also like to elaborate on the following questions:
What are real world applications of securitization on a blockchain?
What assets can be tokenized and what are the different types of tokens?
How is tokenization/securitization set up?
What are the legal and business ramifications of tokenizing real-world assets?
During the online event, you will also have the opportunity to ask questions directly to the speakers.
Panelists
Philip Filhol, neoFIN
Natalie-Dilan Yerlikaya, DLA Piper
Constantin Ketz, Cadeia
Manuel Klein, Deutsche Bank
Moderator: Christian Viehof, International Token Standardization Association
Location and Date
Location: Online. Details for the live broadcast will be sent to you on the day of the event (no prior software installation required)
Date: Tuesday, June 28, 2022
Time: 13h00–14h00 (CET)
Language: English
Agenda
13:00 – Welcome and introductory words (Christian Viehof, International Token Standardization Association)
13:05 – Introduction of the speakers
13:10 – Panel discussion: Securitization of real-world assets
14:00 – End of online panel
Tickets and registration
Required via Eventbrite; you will receive the URL for the online panel in advance.
Who should participate?
Employees and decision-makers from the financial sector interested in blockchain technology
Investors with a focus on crypto and blockchain
Asset managers, family offices, funds trying to learn about blockchain
Other groups of people with an interest in securitization and blockchain
Anyone enthusiastic about blockchain technology
more
Time

(Tuesday) 13:00 - 14:00(GMT+02:00) View in my time