Master Tokenization & Digital Securities for Real Estate
02feb18:3019:30Master Tokenization & Digital Securities for Real Estate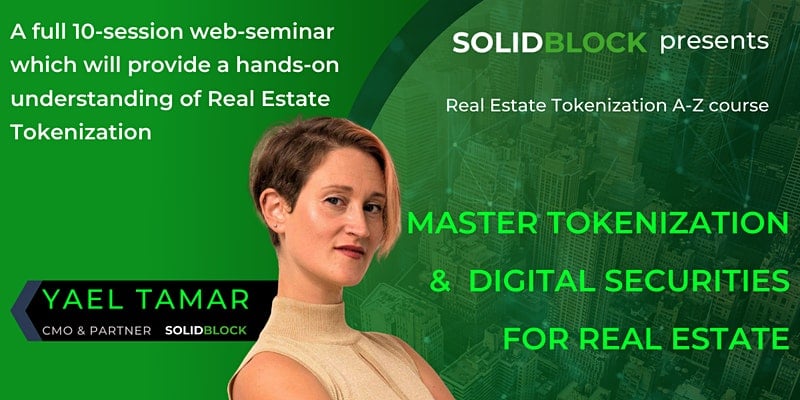 Event Details
About this Event
Digital securities issuance is on the rise in the equity and real estate financing industries.
This course teaches inline with the local and global regulatory environment and the underlying capital markets provide a future industry outlook, exposing students to new tokenization practices that provide promise for more liquidity and security.
Topics explored include real estate investment models, the security token offering timeline, and tax structuring for investors.
If you are new to the blockchain space, you can benefit from this practical course on all the aspects of digital security offerings.
This course does not require any prior knowledge of real estate or finance.
What the Course covers?
Here's just a taste of what you'll discover during our 14-session* seminar:
Introduces real estate tokenization and its opportunities in liquidity in illiquid real estate assets.
Discusses the immutability of data prevent and capture fraud in the Blockchain.
Tokenization from an issuer's perspective.
Taxation for domestic and foreign investors in the US.
The course is developed for participants coming from different backgrounds who are looking to learn about the benefits of tokenization for their business. The course is highly practical, and students will develop a step-by-step plan for tokenization should it be the right step for their business. We will use real estate as the main use case and students of various backgrounds have the opportunity to learn about real estate investment and various models of real estate finance.
Highly recommended for:
Founders of innovative businesses
Analysts and investors
Professionals working in investments
Real estate investors and funds
Real estate developers sponsors
Real estate technology firms
Hedge Fund Managers
Asset Fund Managers
Green Energy Professionals
Learn and experience all the practical steps of tokenization from the COO of a Blockchain Startup
And because it's SolidBlock, it's all going to be fun and approachable, in clear, plain English. We'll share real-world case studies on a level anyone can click with and leave lots of time for your questions.
more
Time

(Tuesday) 18:30 - 19:30(GMT+01:00) View in my time
Virtual Event Details
RUN
Event has already taken place!