ETH Berlin
16sepAll Day18ETH BerlinETH Berlin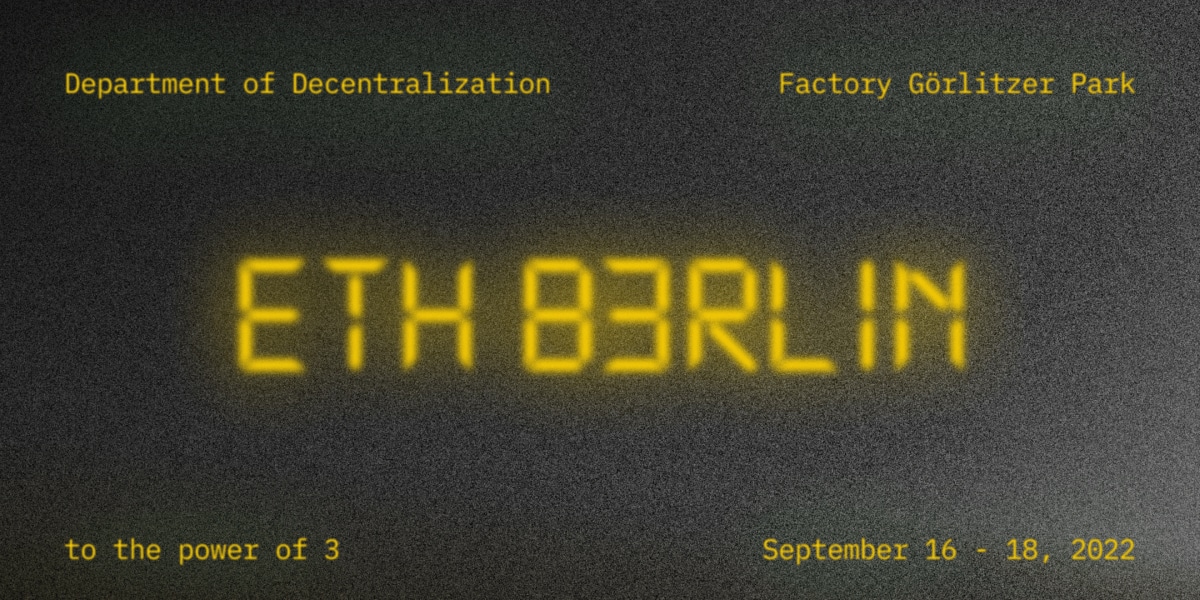 Event Details

ETHBerlin is known as the hackathon extravaganza, a cultural festival, an educational event, a platform for hacktivism, and a community initiative to push the decentralized ecosystem forward. ETHBerlin³ is the third edition, and we've come a long way since we hosted our first hackathon in 2018.

After successful events in 2018 and 2019, ETHBerlin decided to reaffirm its commitment with the ecosystem and founded the Department of Decentralization. The DoD is responsible for initiatives that go beyond organizing hackathons and seek to also support the projects coming from our events and community. ETHBerlin 2018 and ETHBerlinZwei 2019 sought to marry the culture and values of Berlin with those of the builder community and arguably succeeded at it.

Now, in 2022 we are back with ETHBerlin³ – to the power of 3. This time, we are pushing even further into becoming a festival for people from all backgrounds, and most importantly, a hub where builders will be able to get their creative juices flowing by discovering various cultural and educational experiences spread across the weekend.

With ETHBerlin³, we aim to go back to the roots and remind our community what it's all about: We want to invite you to Berlin to hack the system, now more than ever. We want to emphasize the original cypherpunk vision and build on it. In addition, we aim to teach and educate a new generation of hackers about what you can achieve with cryptography, blockchain, and peer-to-peer network technologies.

Our big question for you is: How do we get from yield farming fruit tokens, VC chains, making the rich richer and a never-ending race to the top to an open and an inclusive system that makes a difference in people's lives? Which anarchist and privacy-preserving tools can we build that enable independence from governments and mega corps?

We will encourage hackathon tracks, workshops, and supporters at ETHBerlin³ to focus on the following key aspects:
Private: there is no need for your name, data, or ID.
Usable: it has to be accessible and user-friendly.
Direct: it does not ask for permission.
Subversive: it transforms established orders and structures of power.
Social: it empowers people and makes a difference in somebody's life.
Clandestine: it will not comply.
Independent: it will not rely on governments or corporates.
Impactful: it intends to make a difference.
Secure: it does not put anyone at risk.
Libre: it will be free both as in free speech and free beer.
more
Time

september 16 (Friday) - 18 (Sunday)(GMT+02:00) View in my time
Location

Factory Berlin Görlitzer Park

Lohmühlenstraße 65, 12435 Berlin, Germany