– an interview with conceptual writer and artist Kalen Iwamoto
Kalen Iwamoto offers us a playful practice where poetry and literature meet conceptual art. In this interview, she gives us insights into her work and shares her thoughts on how words on the blockchain already are inspiring many writers to reimagine the reading and writing experience in general.
Trine Juulsen (TJ): Would you start by telling us about the values behind your work?

Kalen Iwamoto (KI): All my work is motivated by a sense of playfulness, exploration and experimentation. Conceptual art often gets catalogued as abstruse and humourless, which I think is unfortunate. I am, personally, incredibly inspired by conceptual writers/artists like Sophie Calle and Christian Bök, whose work has a very playful, often game-like quality, and although I can be quite finicky about my work, I aspire to this kind of playful conceptualism. I also like the notion of détournement — the practice of taking a word or idea out of the milieu in which it belongs, and using it for other purposes or within a new context, thereby rendering the familiar unfamiliar and inviting new ways of seeing.
Trine Juulsen (TJ): As I understand it you work in an intersection between conceptual art and writing and explore this in the context of NFTs. Can you elaborate on what this looks like for you?
Kalen Iwamoto (KI): As a conceptual crypto writer and artist, my work takes many forms, both literary and artistic, but the three defining parameters are conceptualism (the primacy of the concept), language (or at least a reference to writing and literature), and crypto or NFTs. The possibilities here are endless. So far, for me, this has meant studying crypto culture and the nascent crypto lexicon; turning blockchain processes into rules for writing (for example, in my "Few Understand" series); inserting poetry in web3 spaces (I once "published" a poem on OpenSea's Trading History by creating 4 wallets, naming each with a line of poetry, and making a nominal bid on an NFT with each wallet); exploring the metaverse through words ("MetaVerse", my multimedia poetry series for Etherpoems, or "Looks Rare", an interactive performance art installation in the metaverse, created in collaboration with the artist Walt Reumano); or using smart contracts to shake up the roles of writer and reader and create a unique readerly experience, which is something I'm working on now.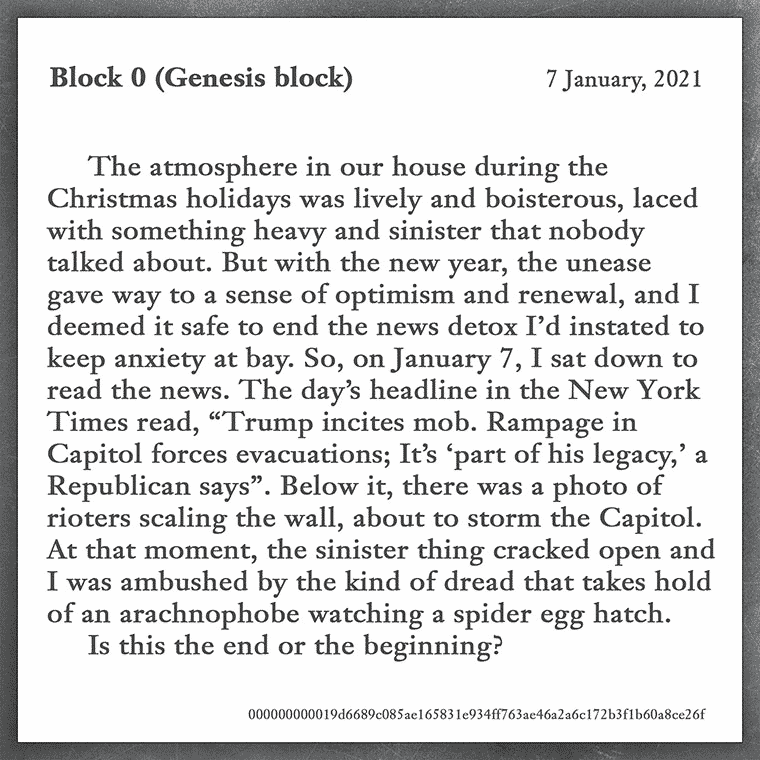 TJ: In relation to this may I ask what your background is in relation to your practice?
KI: My educational background is in international development. However, during my master's studies, I grew very critical of the underlying premise of development and, in deconstructing that discourse, was drawn to continental philosophy, cultural studies, literary theory, psychoanalysis, and semiotics. Later, I became a French-English translator. The "Faux mot /'fomo/" piece obviously borrows heavily from these past lives, but more generally, working at the intersection of multiple disciplines and across languages has inculcated a sense of interdisciplinarity and a propensity for transgression — in the sense of stepping across or beyond, although come to think of it, I'm probably violating rules as well.
TJ: For you, what made crypto/NFT an opportunity to evolve as an artist?
KL: I've been a lifelong reader and writer, and have always had an abiding love for conceptual art, but I didn't have a writing or artistic practice to speak of before NFTs, and I am not formally trained in art or literature, which to be sure, is a disadvantage in many ways, but it also means that I am not bound by the strictures and rules of either worlds and this, I believe, gives me a great deal of freedom. Frankly, I don't care about earning the approval of legacy institutions, which to be clear, is not to say I'm flippant or unmindful about the craft. I first entered this space as a collector and observer, and what I discovered was a vast playground for experimentation and exploration, and this is what impelled me to create. My work and my identity as a writer and artist were born in this space.
TJ: You talk about being faithful to a concept as the main aspect of your practice, but what does this actually mean, what does this look like? Could you give an example of what a theme could be and to what extent being faithful to this would look like?
KL: For the most part, I subscribe to Sol LeWitt's definition of conceptual art — the concept is the work of art. All meaningful decisions about the artwork are made during the ideation phase, while the execution, in this view and in his words, is perfunctory. Conceptual writers and artists, including LeWitt, have been known to simply write a set of instructions, which are then carried out by a craftsperson. I sometimes test the soundness of a concept by asking myself, could I write instructions for this piece or series? Would it lose any of its power as a conceptual work if someone else simply carried out my instructions? Being faithful to a concept means following these hypothetical instructions to the letter.
To give a concrete example, these would be the instructions for my piece, "12":
Create a wallet.
Write a poem using each word in the wallet's seedphrase. Entitle the poem "12".
In the unlockable content, provide 12 clues for each seed word, in the correct order.
Ask 12 crypto writers to transfer one of their NFTs to this wallet.
Mint the poem "12". (Then, simply wait for a collector to find the seedphrase and take all the NFTs in the wallet).
Deviate from any of these instructions, and the concept falls apart.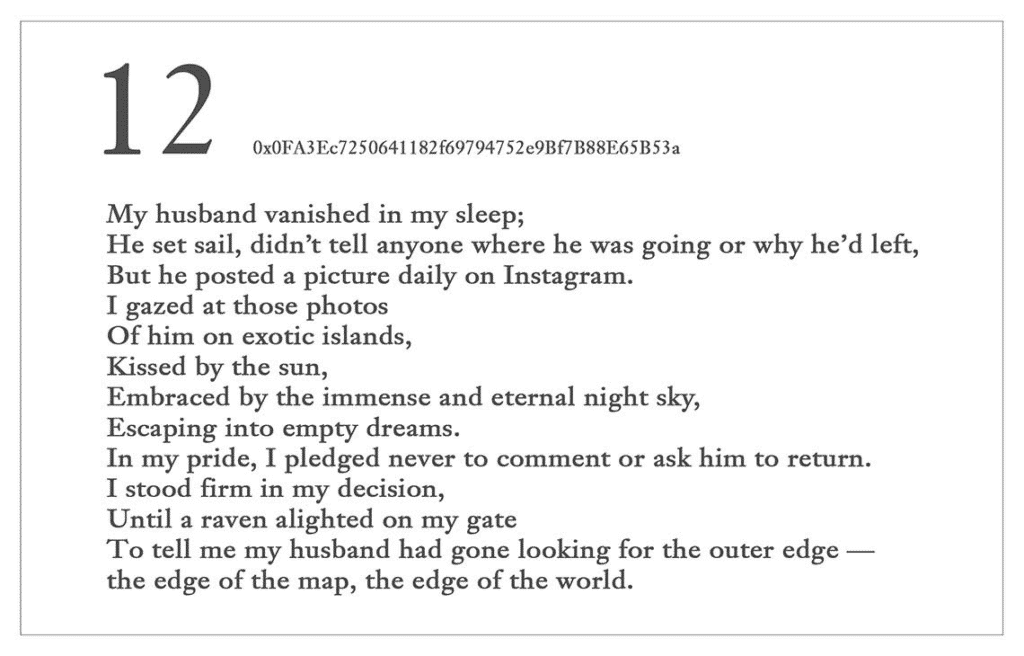 I also try to eliminate anything arbitrary or superfluous, and can be a bit obsessive about making sure everything "fits together". When I was invited to contribute a piece for the NFT Paris event, I was given very specific screen dimensions — a tall and narrow portrait format. I wanted this specification and the theme of the event to be integral elements of the work, and adding these constraints to my usual crypto conceptual writing parameters, I created "Faux mot /'fomo/", a translingual psycho-semiotic dictionary definition of a French-English homonym, where the tall, narrow format calls to mind the columns in the pages of a dictionary. The medium, the literary and visual forms, the themes, the dimensions — all of it matters to me. I'm not a visual artist, but I am, very luckily, married to one, and my husband and I work together closely to find the most meaningful, appropriate visual presentation of the concepts. Many of the pieces tend to be black and white, and quite stark so as not to take the focus away from the concept. Adding visuals that add nothing to the concept for the sake of making a piece more aesthetically pleasing is tantamount to being unfaithful to the concept.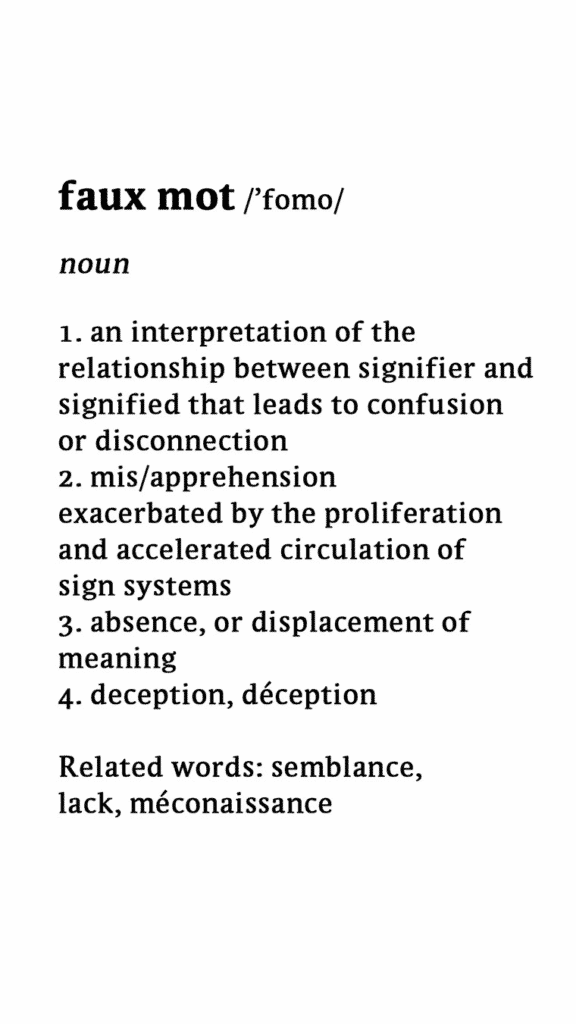 TJ: What impact do you see the evolving NFT-crypto-world having on literature in the future – both good and bad?
KI: It's exhilarating to contemplate all the possibilities that NFTs, smart contracts and blockchain technology unlock for literature. They help us reimagine the reading and writing experience, and upend our traditional understanding of the roles of reader and writer. I already see many writers and poets experimenting with new ways of telling stories and presenting their work through cross-media, collaborative, or interactive storytelling, visual and media-rich poetry, experimental ways of releasing novels, the list goes on. We're exploring some of these avenues at theVERSEverse, a literary NFT gallery co-founded by Sasha Stiles, Ana Maria Caballero, and myself. At the gallery, we pair poets with crypto artists to create immersive media-rich poetry, elevate conceptual writing and text-based art, and encourage poets to experiment with AI in our GenText series.
But I also often think about the perception of value in the NFT world, which for better or for worse, is intimately and inextricably tied to the market and the financial world, and where monied collectors wield so much power. I'd also like to see more editors in the NFT space.
If you want to see more works of Kalen Iwamoto then go to her homepage at Works – Kalen Iwamoto (kalen-iwamoto.com)
---
Learn more about NFTs here.
Read other stories: NFT Insight Q2/22
Will NFTs bring about the poets of the metaverse?