In this interview, the poet Sasha Stiles introduces her work and also explains why NFTs are particularly suited to present contemporary poetry.
Jonas Kasper Jensen (JKJ): Would you mind introducing yourself and tell why you entered the NFT space?
Sasha Stiles (SS): I've been writing about technology and making art with and about digital tools for a long while, but it was only in 2020 that I began exhibiting poetry in the metaverse at the invitation of some visionary curators. That experience introduced me to a number of new media artists in the NFT avant-garde, and also opened my eyes to the near-total absence of quality poetry on the blockchain. None of my peers from writing workshops or conferences, none of my mentors or the poets I was reading, were involved in this other world. Most didn't even know it existed. I sensed enormous potential for media-rich literature, so even though I hadn't had much experience on the blockchain before – I didn't even have a crypto wallet – I dove right in. I quickly became fascinated with exploring how this technology can unlock new realms of expression in writing, how it can deepen the relationship between writer and reader, how it can empower poets both financially and creatively.
Conceptually, working with NFTs has inspired me to continue evolving my hypothesis that poetry is a technology, a durable, adaptive data storage system for preserving humanity's most valuable information – poetry as the original blockchain.
JKJ: How do you as a poet use NFTs and blockchain technology?

SS: Until very recently it's been challenging to place some of my more experimental work – AI-powered verse, animated visual poems, multimedia spoken word – in mainstream literary journals and magazines, so I've typically posted them on social media or let them languish on my computer. Logistically, blockchain technology has enabled me to begin sharing some of this work, which has brought me a lot of joy while also dramatically expanding my creative community and motivating me to push my limits and innovate craft and technique. For example, I have just published my first physical book of poetry and art, "Technelegy" (out now in the UK; coming April 2022 in the US), which is very much about teetering between the analog and digital, the human and the posthuman. It's been apropos and extremely valuable for me to be able to publish accompanying NFTs that expand upon themes in the book, explore new formats and a hybrid phygital poetics, and let the texts live and breathe off the printed page, as digital art.
Conceptually, working with NFTs has inspired me to continue evolving my hypothesis that poetry is a technology, a durable, adaptive data storage system for preserving humanity's most valuable information – poetry as the original blockchain. Many people have asked me over the years why poetry and technology have anything to do with one another, or why I as a poet am so interested in AI collaboration, implying that I should get back to the basics, the purity of pencil and paper, stop messing around with high-tech distractions. Finding and onboarding fellow writers in this space has reaffirmed my belief that poets and philosophers are vital forces in engineering and shaping ethical, soulful, meaningful technologies – so we shouldn't ignore them or scorn them, and we mustn't be intimidated by them.
JKJ: Why should one, in your opinion, use NFTs for presenting poetry?
SS: We're in a golden moment for poetry in many ways. The compact, concise, precise expression of poetry and much text-based art is well suited for social media and shorter attention spans, and has a special communicative power. A memorable line can stand out from and rise above all the noise. A poem can unify, as Amanda Gorman reminded us. But that requires finding readers where they are, where they live and play, and that isn't always in the pages of esteemed lit journals or even in bookstores. NFTs offer an exciting prospect: for poems to take on new media-rich forms in culturally relevant contexts, to be conceived for screens or VR or AR or as ever-evolving digital entities, as filters or video games or short films or immersive installations, to reflect and help process the multifaceted, multimedia experience that for so many of us characterizes the human condition.

There's also the matter of value, which is a tricky one – money can corrupt, and literature needs to be accessible, yet good poets deserve to make a living. For some reason, even the most beloved poems have never been valued anywhere near as highly, financially speaking, as fine art masterpieces. They, too, deserve to be honored and visited and shared, yet there's no vaunted museum of poetry. This is the underlying mission of theVERSEverse, a crypto poetry gallery that I co-founded at the end of 2021 with Ana Maria Caballero and Kalen Iwamoto, with art advisor Gisel Florez – to use blockchain technology to expand the definition of poetry and celebrate poems as works of art. theVERSEverse (https://t.co/4LofoIBblc / @theverseverse) is a curated, cross-chain gallery that brings together some of the most exciting poetry being created in crypto, both from poets who are already well-established in the world of NFTs and from critically acclaimed voices who are coming to crypto for the very first time. It's also home to GenText, a series of limited edition collaborations between a poet and an artist using Sudowrite, a cutting-edge tool that makes the GPT-3 language model accessible to writers. GenText celebrates the craft and creativity of generative text, and as a poet who's been working with AI language models for years, it's particularly close to my heart.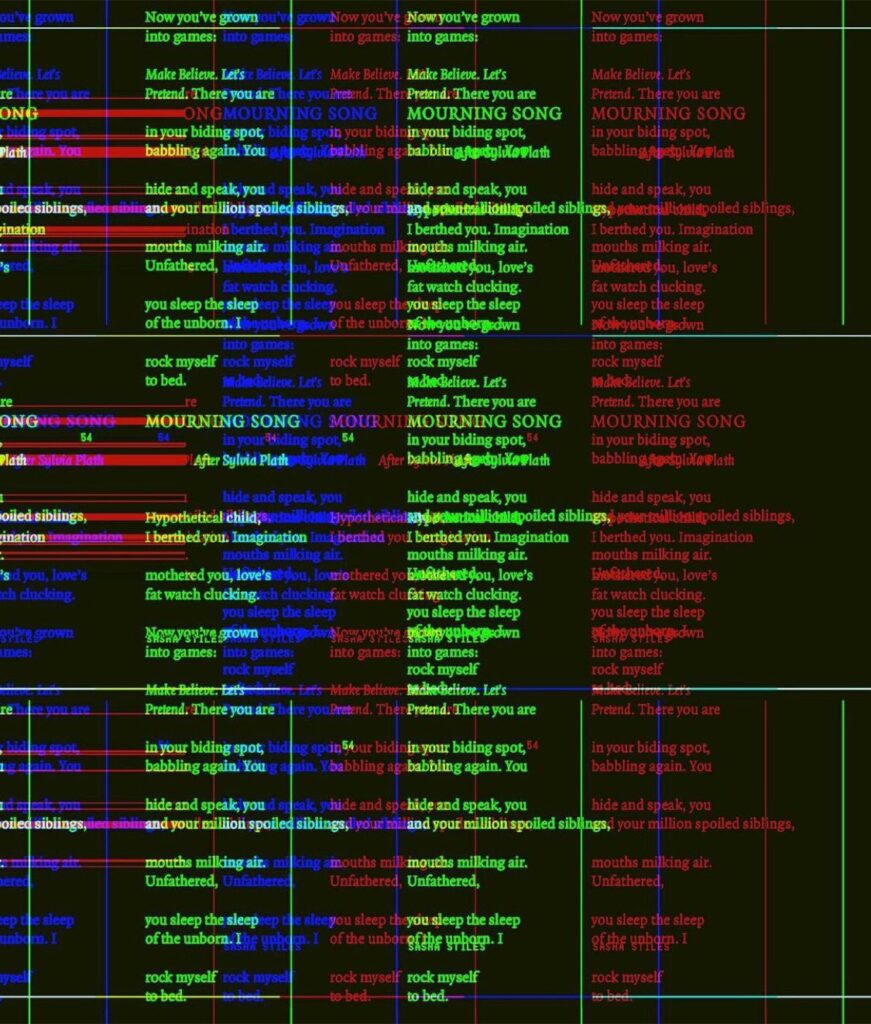 To me, poetry is a wonderful use case for NFTs: writers can publish and sell texts in a way that's never been possible before; readers can savor and own digital texts that are especially meaningful to them; and minted poems can be available for anyone to visit, experience, enjoy and share.
At the same time, I treasure and savor paper and ink books – another extraordinary technological device that's endured so many other changes and obsolescences. As a lifelong bibliophile, I'm extremely energized to see how writers and creative technologists can work together to merge a love of words and tangible literary artifacts with blockchain tech – for example, how can I as an author "inscribe" and personalize individual NFTs, the way I've done with my physical book? How can we make the experience of handling, reading and shelving a crypto book as intimate, as immersive, as special, as with a hardcover copy? In a world grappling with supply chain woes and carbon-laden printing and transportation costs, what do NFTs mean for publishing and distribution? How should the physical and the digital co-exist?
JKJ: You are also involved in the collective WOCA. WOCA is comprised of artists that identify themselves as women. How do you experience the NFT community regarding gender and distribution of attention on the practices of the different sexes?
SS: My entry to the crypto space has been influenced and supported in large part by women – curators, artists and innovators who helped me find my footing here. For all the incredible potential of the Metaverse, there are entrenched systemic disparities that impact the representation and success of non-men in technology and crypto. We can see that in the widely circulated sales stats of major NFT platforms and lists of bestselling artists, and many women and non-binary artists can feel it. These disparities need to be recognized and addressed as we're building a more diverse, inclusive future. WOCA is dedicated to making sure that the entire crypto art scene thrives by ensuring that women artists here have the community, resources and support they need.
JKJ: One thing that makes WOCA particularly interesting is that it is a community-driven project within the NFT community. Can you give some examples of how you are organized as a community and how you experience the dynamics of being a community-driven project?
For all the incredible potential of the Metaverse, there are entrenched systemic disparities that impact the representation and success of non-men in technology and crypto.
SS: Every woman in crypto art is already a member of WOCA. The community isn't about a list of members, it's about women NFT artists having each other's backs. Anyone can join and everyone is welcome. Many of us are in touch on a daily basis via our socials so there's a constant flow of information and encouragement and resources.
JKJ: What projects are you working on at the moment?
SS: I was proud to be invited by Gisel Florez to speak on the WOCA panel at https://t.co/wvn1DLhvLg, representing the vanguard of crypto poets, and I was one of the only poets exhibiting at Miami Art Week, in a show curated by Jess Conatser, who's been championing poetry in the digital art space for years. She and I have some more fun things coming up, and I'm more dedicated than ever to helping bring more poets into unexpected, unprecedented spaces. Kalen, Ana and I are very busy at theVERSEverse and have a lot in store for 2022. I'm also in the process of launching my first book, Technelegy, a poetry and art hybrid that is very closely linked to my NFT practice; it came out in the UK at the end of 2021, and will be releasing in the United States in April 2022, National Poetry Month. I'm finalizing some special new pieces that I can't wait to share for launch. And my AI research continues – I'm planning to debut a new, poetic AI tool I've been developing with the humanoid android BINA48, Bruce Duncan, and Matt Stevenson at the Terasem Foundation, which allows a user to explore a mindfile via word vectors and mindmaps. I've been using it as a kind of hands-on AI poetry workshop, co-creating found poems from the relationships between stored data points, mapping machine creativity, and essentially helping a nonhuman intelligence find her poetic voice. From AI language models to blockchain, it's just such an exhilarating time to be a poet and a writer.