Global Online Investor Roadshow (GOIR) Expands to China and Europe with Strategic Partnership with ZCapital and Innovo Capital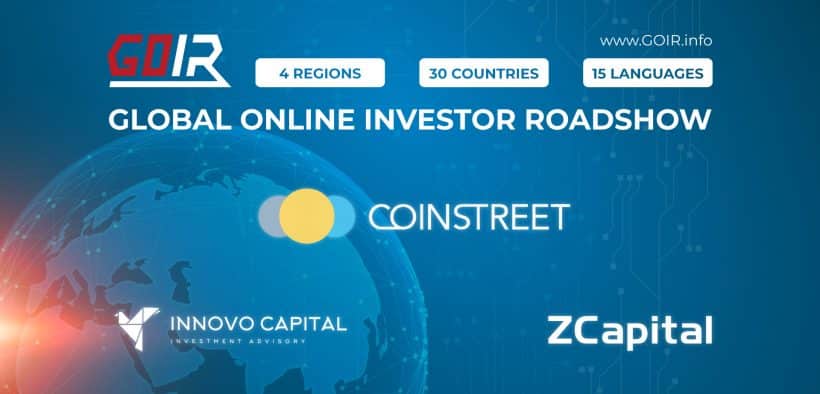 Coinstreet Partners, an award-winning AI-powered global decentralized investment banking group and organizer of Global Online Investor Roadshow ("GOIR"), jointly announced a new strategic partnership with ZCapital Co. Ltd., a Shenzhen-based investment firm with a vast network industry, associations, and private sectors, and Innovo Capital, a London-based investment advisory firm with offices in major global financial hubs ("Innovo Capital") to collaborate and expand GOIR's global business network.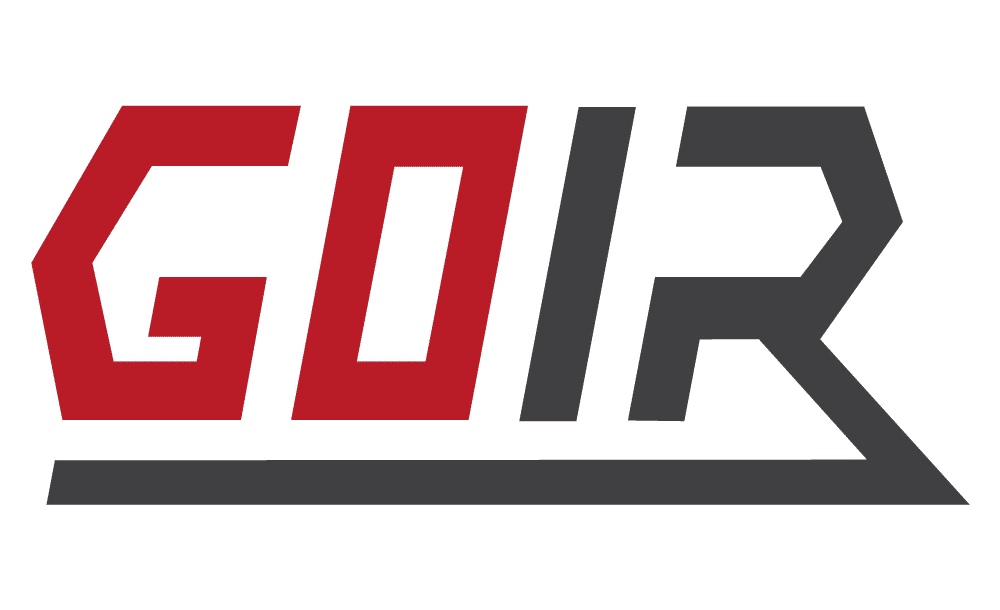 Through this partnership, ZCapital and Innovo Capital will promote GOIR events and its unique investment opportunities to their extensive networks in Chinese and European markets, and solicit high-quality projects from local markets to be promoted in GOIR's global investor network.
"According to China's Ministry of Commerce, China's total outward investment was over USD $129 billion in 2018 and USD $57 billion in the first half of 2019. It is now ranked as the world's second-largest outward investor. Many professional investors and financial institutions in China are seeking high-quality private investment opportunities overseas. We are very excited to be an official partner of Global Online Investor Roadshow in China, facilitating Chinese investors in sourcing great investment opportunities globally through the GOIR platform."Sally Lin, Chairman of ZCapital
"We are delighted to be collaborating with Coinstreet Partners and it's always a pleasure to work with people that share the same passion and commitment to developing and nurturing the entrepreneurial investment ecosystem. This roadshow will provide unique opportunities to investors and companies alike, and we will be leveraging our extensive global networks to ensure the maximum positive impact for as many participants as possible."Irina Cooper, Managing Partner of Innovo Capital
GOIR is the next generation, institutional scale, online private placement platform for private equity, alternative investment, and digital asset opportunities. It is the biggest online investor roadshow of its kind with the broadest reach, spanning across thirty (30) countries. The main objective of GOIR is to allow its carefully-curated investor community to gain priority access to exclusive global private investment opportunities on special favourable terms.
"Since its inception, GOIR has helped many professional investors acquire unique investment opportunities via its online platform and has allowed fund managers to continue operating as usual, despite the challenges of COVID19 pandemic. GOIR is gaining a lot of momentum and is rapidly becoming recognised as the "go-to event" for deal sourcing from professional investors, and for fundraising pitching for high-quality private companies."
At each GOIR event, no more than four high-quality investments will be showcased, and simultaneously interpreted from English into multiple languages. Participating enterprises are able to introduce their projects, in a very efficient and cost-effective way, to the very exclusive GOIR investor network, which consists of an elite group of financial institutions, pension funds, hedge funds, private equity funds, alternative investment funds, VC funds, family offices, brokerage firms, and high-net-worth individuals.
JULY 2020 GOIR event
The next GOIR event will be held on July 20-23, as a four-day event covering four regions of Europe, Middle East, Asia, and the Americas (one day per region). It is an official side event during the Singapore Blockchain Week.
The event will be composed of keynote speeches from industry experts, presentations from high-quality projects, and investment panels with financial/investment experts. All speeches and presentations will be simultaneously interpreted from English into multiple languages.
Keynote Speakers
Mr. Pantelis Margaroni, Seasoned Private Banker
Mr. Jorge Sebastiao, CTO, Advisor, Board Member
Mr. Glenn Woo, Managing Director, Head of APAC of Ledger
Mr. Mark W. Yusko, CEO & Chief Investment Officer of Morgan Creek
Presenting Projects
"The GSX Group has worked closely with Coinstreet for many years now, a relationship built on a shared ambition to broaden the parameters of decentralised finance and DLT solutions. The GOIR is a fantastic platform for us to share our vision to create a global digital stock exchange ecosystem with a single point of access to issuance, listing and trading using our proprietary blockchain technology."Nick Cowan, CEO of GSX Group
"We are very impressed the model and mechanism of GOIR, and very excited to participate and introduce our innovative technologies to the GOIR investor community globally in a highly efficient and effective way under the current challenging environment of COVID 19" Mike Tchernik, CEO of Imigize.
At the most recent GOIR event in June, Q4Sports, Mercato Fabbrica and AMRE were among the presenters and received strong interest from investors from the Middle East and Asia.
"The GOIR roadshow has proven that companies can thrive in any global economic environment and get their message across to investors looking for quality opportunities" Aaron Sokol, Co-Founder & CEO of Q4 Sports.
The next GOIR event will be held from Sept 28 to Oct 1, in collaboration with the Hong Kong Blockchain Week.
According to a survey from the World Economic Forum, around 10% of global GDP will be tokenized and stored on Blockchain and reaching a total market capitalization of over USD $24-trillion dollar by 2027. Coinstreet serves clients with tokenization needs ranging from stablecoins, real estate, financial services, technology, biotech, healthcare, telecommunications, energy, manufacturing, hotel, hospitality, lifestyle, gaming, media and entertainment sectors. Significant growth in the number of high-quality STO projects and global expansion of investor communities is expected, as the adaptation of this new corporate finance model gains popularity globally.
About Coinstreet Partners
Founded in 2013, Coinstreet is an award-winning,* AI-powered decentralized investment banking group and consultancy firm in FinTech and Digital Asset sectors, providing a business eco-system for the new era of the digital economy. Coinstreet focuses on five key business segments: Digitized Consultancy, Digital Asset & Wealth Management, PR Media & Investor Relations, Digital Asset Tokenization & Trading Platform, and Decentralized Finance & DLT Solutions. Coinstreet's group consists of companies in both the financial and technology sectors.
Winner of the "Asia Futurist Leadership Award" organized by the "Association of Family Offices in Asia"
Winner of the "Security Tokens Realised Awards London 2020", organized by the "Juliet Leadership Summit"
For more information, please visit – www.coinstreet.partners
About ZCapital
ZCapital offers a unique concept of 'Investment-As-A-Service' providing fully integrated financial and business operation services to promising enterprises, with a special focus on TMT, sports tech and, IOTs industries. Through close collaborating with associations, financial institutions, manufacturers, and industry experts, ZCapital provides highly valuable services to companies in their investment portfolio facilitating and helping them on business growing market branding and global expansion.
About Innovo Capital
Innovo Capital, a London-based investment advisory firm with offices in major global financial hubs, is dedicated to mentoring start-ups on the key elements to launch and execute a successful fundraising programme. Innovo Capital has decades of combined experience working with start-ups, especially during the early stages, as well as assisting with the development of the investment, legal structuring and managing the fundraising strategy, leveraged by our global network of investors. For more information, please visit https://www.innovo.capital/
About GSX Group
GSX is building a digital stock exchange ecosystem with a single point of access to issuance, listing, tokenisation/detokenisation, trading, settlement, registry and custody of securities and currencies on GSX regulated exchanges around the world. Using a unique combination of high-performance trading engines, CSD/Registry technology and GSX's proprietary Native STACS blockchain interfaced to current infrastructures, GSX is rolling out a network of GSX digital securities exchanges for listing, global liquidity and price discovery. For more information, please visit https://www.gsxgroup.global/
About Imigize Group
Imigize sets the trend for the footwear and apparel industry, providing an opportunity for businesses to make the complete transition from offline to online. Imigize made the concept of "shoe size" irrelevant for shopping. Now every customer can create 3D model of their feet using smartphone, and then confidently buy the right by size comfortable shoes in the on-line store connected to our service.
Imigize now raising fund to open its Сenters of Measurement in places of global footwear production for fulfilling commercial contracts with leading global retailers, brands and manufacturers. For more information, please visit https://imigize.com/
About Q4Sports
Q4 Sports is an innovative footwear company committed to identifying influencers who believe strongly in the strength of their own brand and the power of owning their own brand. Our tag line is "Work 4 Yours"; everyone from influencers on down need to work hard to earn what they've achieved. Nothing comes easy, but those that embrace owning their brand ultimately create greater brand identity, followers and net worth. The quotient of 4 in the Q4 stands for "purpose, passion, commitment and focus", characteristics that any successful influencer needs to succeed in today's global marketplace. For more information, please visit – https://q4sports.com/
Related Articles:
WestPark Capital and Coinstreet Partners Successfully Debut the First Institutional Scale Global Online Private Placement Platform – GOIR
Coinstreet Partners collaborate with The Tokenizer to promote GOIR