AnySizeDeals launches inaugural ASDToken Conference at CoinDesk's Blockchain Week NYC.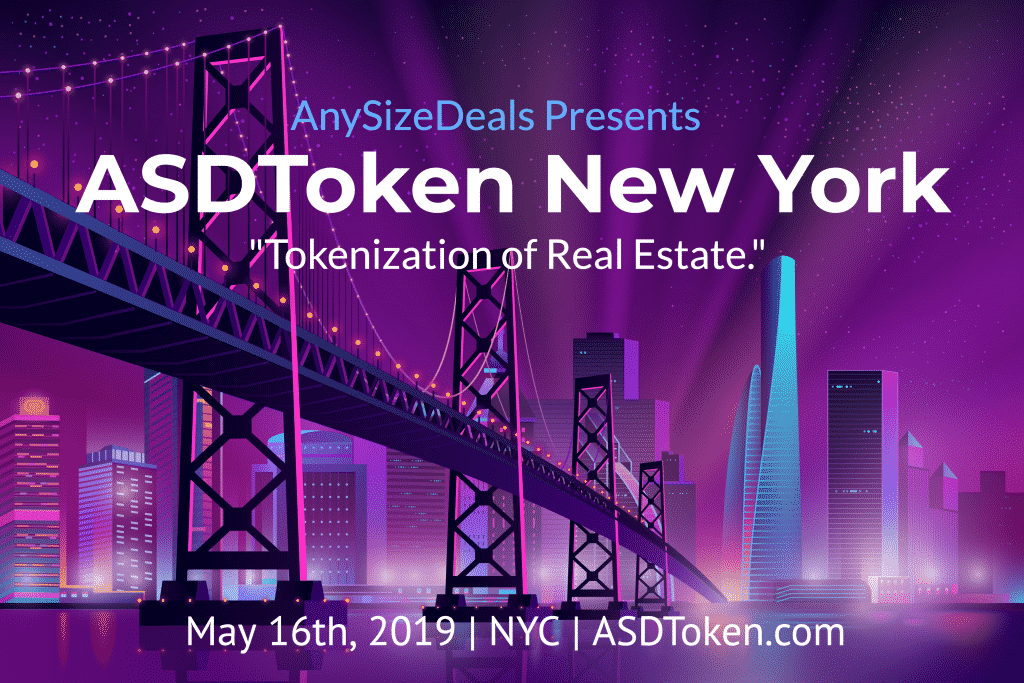 New York, NY – AnySizeDeals announced today that its new flagship crypto conference; ASDToken will be launched as part of the line-up at CoinDesk's Blockchain Week NYC.
The conference is the first of it's kind to focus exclusively on real estate tokenization and will take place on May 16th, 2019 at The Williamsburg Hotel in Brooklyn, NY.
The event is from 8:30am to 3:00pm and will feature some of the most prominent names in the Blockchain and PropTech space.
Registrations are now open @ asdtoken.com.
Some of the notable speakers include:
JAMIEL SHEIKH/CEO & Founder – Chainhaus
jOSHUA STEIN/ CEO & Co-Founder – Harbor
TOBY MOSKOVITS/CEO – Heritage Equity Partners
ASH ZANDIEH / CIO – CREtech
STEVEN NERAYOFF / CEO – Alchemist
JEFFREY BERMAN / General Partner – Camber Creek
STEPHEN KING / CEO – imbrex
PATRICK O'MEARA / Chairman & CEO, Inveniam Capital Partners
DANIEL FETNER – Chief of Staff, Corigin Ventures
ODED SHOSHANY / CEO – Orbise
MARK VANGE / CEO & Founder – Token IQ
MONIKA PROFFITT/CEO & Founder – Rise Housing
CLYDE VANEL / NYS Assemblyman – District 33
PERRIN QUARSHIE – CEO, RealBlocks
JUAN HERNANDEZ / CEO – OpenFinance
EVAN MALANGA / Director of Business Development – Securitize
ANTHONY ELIA / CEO – FinanceDA
RANGA KRISHNAN / CEO – BEI.RE
ASHA DAKSHINAMOORTHY/ Product Lead – AlphaPoint
ALEXANDRA LEVIN KRAMER / Partner – CKR Law
STEVE NSON /CEO – AnySizeDeals
The conference schedule is a full day of panel discussions and networking opportunities. Some of the topics that will be covered are:
"To Tokenize a REIT": What are the challenges and opportunities of bringing digital securities to the REIT Market, from Regulatory Matters to Access to Liquidity.
"Regulator": What are some of the regulatory challenges of security tokens and what's the ideal framework to facilitate the issuance of tokens.
"To Token or Not": What's the Business Case for Asset Tokenization and Fractionalization in Commercial and Residential Real Estate.
"Blockchain Beyond Crypto? Beyond Crypto what are the other applications of Blockchain within the real estate ecosystem.
"This conference is really a can't miss for real estate investors interested in learning about the benefits of tokenization as an investment vehicle," said Steve Nson, organizer of ASDToken.

Tickets for the conference are currently on sale at asdtoken.com. Readers of The Tokenizer will benefit from a 25% discount by using this link for registration and enter the discount code: TOKENIZER.

More Articles:
Assets, Securities and Cryptocurrency
Liquefy Launches Liquefy Ventures for Institutions and Family Offices to Navigate the Evolving Cryptocurrency Space