Novem Backs NNN Gold Tokens with Nearly $1.5 million in LBMA-Certified Gold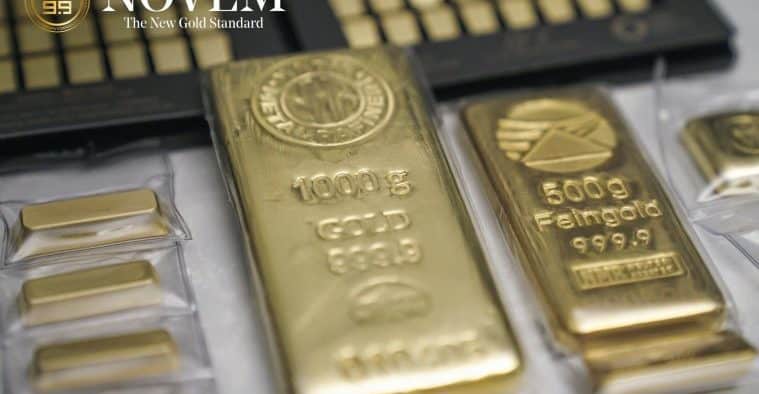 With Novem NNN Gold token sale just a few weeks away, Novem has amassed more than 34kg of gold — this amount continues to grow and all newly minted NNN tokens will be tied directly to new gold in storage.
The Novem NNN gold token is entirely backed by LBMA-certified gold held in trust. NNN gold tokens will be minted only based on gold held by Novem, and each token is redeemable for physical gold at a rate of 1/100g per token.
"Novem will soon be introducing the best way to buy gold on the blockchain with the NNN gold token. It will be revolutionary, not only from the point of view of those who buy and sell gold, but also as a superior definition of what a stablecoin can be," Wolfgang Schmid, the CEO of Novem said.
"Novem will back every NNN token with physical LBMA-certified gold. We will continue to increase the gold we hold in trust and are committed to minting NNN tokens based only on the gold is securely stored with Loomis. In that way, buyers of our NNN tokens can be sure that their purchase is 100% backed by physical gold."
NNN gold tokens are directly tied to physical gold, stored by industry leader Loomis International. NNN gold tokens are minted based on gold held as collateral by Novem, and over 34 kg worth nearly $1.5 million is held in storage at the time of the sale.
In addition, more than $1.2 million has already been invested through a private sale in Novem's blockchain expansion and coin offerings.
Novem is an extension of an existing profitable business of physical stores that buy and sell old gold. Their gold tokens are a new offering by this functioning retail business, and profits from the token sale will be reinvested into retail outlets which will open in major cities across Europe.


Novem utilises NEO blockchain technology to digitise assets and automate the management of digital assets using smart contracts. The NEO platform was chosen due to its speed, functionality, and innovative developer community. NEO is soon to be hardened against attacks from quantum computing, creating long-term safety for token holders.
NNN gold tokens will be available for purchase starting on February 28, 2019. View Website: https://novemgold.com/en/home.html

More Articles:
GoldFund.io Launches BeefLedger Tokens on the GoldFund Exchange
Nornickel's Global Palladium Fund issues first tokens to industrial partners