Securitize Japan K.K., the leading tokenization platform in Japan, announces a business alliance with Sony Bank Incorporated and Sumitomo Mitsui Trust Bank, Limited ("SMTB") to support a public offering and issuance of security tokens ("STs") of a joint money trust backed by loan receivables on its security token platform (the "Securitize Platform").
This is the first time in Japan that a joint money trust is tokenized and security tokens are sold by a bank.
In Japan, security tokens have been sold as a new financing method mainly as corporate bonds or investment products backed by real estate in the form of public offering by securities companies or self-offering by issuers since the revision of the Financial Instruments and Exchange Act in May 2020.
This initiative showcases two innovative features: the tokenization of a joint money trust backed by loans owned by Sony Bank, originated by SMTB, and the sale of STs by Sony Bank as a Registered Financial Institution, which is permitted to conduct certain securities business. This initiative adds alternative features and distribution channels for STs and is expected to further expand the utilization of security tokens in Japan.
The Securitize platform provides solutions both for investors to purchase STs and for Sony Bank and SMTB to manage the tokenization program. The user interface for investors on the Securitize platform can be aligned to match the branding of user companies, and in this initiative, is used by Sony Bank as a distributor.
In addition, the Securitize platform has been enhanced to enable single sign-on (SSO). This means that Sony Bank customers can access the Securitize purchase application screen with a single click after logging into the Sony Bank internet banking site, without needing to register as new users or authenticate their passwords.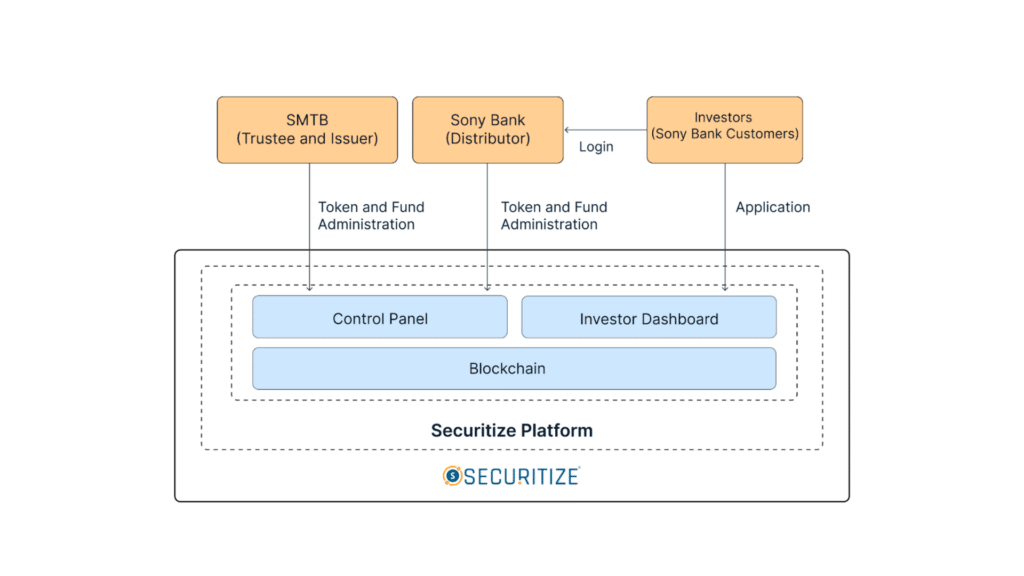 "Security Tokens are an innovative solution that opens up a wide range of investment possibilities for our customers. Sony Bank has added the offering of security tokens to its product lineup and is committed to becoming an asset management bank for individuals that provides optimal proposals to its customers," said Watanabe Takafumi, Managing Executive Officer and CFO of Sony Bank.
"We believe that this new collaboration to issue security tokens using a joint money trust is a highly significant initiative that will contribute to the spread of digital securities in Japan. We will continue to actively promote the development of products that utilize trust functions and digital securities, including security tokens, to provide new investment opportunities to our customers," said Hirohito Niji, General Manager of the Structured Trust Products Department of Mitsui Sumitomo Trust Bank.
"This collaboration involves a number of innovative aspects and marks another step forward for STOs in Japan, and we are pleased to play a role. Securitize will continue its efforts to expand the ecosystem of STO's and help more investors and issuers enjoy its benefits" said Eiji Kobayashi, Securitize Japan's country head.
---
About Securitize Japan K.K. and Securitize, Inc.
Securitize Japan is the leading tokenization platform in Japan (and is not a securities firm under Japanese law). Securitize Japan is an entity of Securitize, which is expanding investor access to high-quality, real-world private market assets, leveraging tokenization to make previously inaccessible investments available to more investors, consistent with securities laws. Securitize is making private equity, venture capital, and other exclusive, real-world, private market assets accessible to a broader range of investors. With 1.2 million investors and 3,000 businesses already connected, Securitize is modernizing the relationship between companies and their investors by digitizing capital raising, investor onboarding, identity verification, and the issuance and trading of securities. Securitize, LLC is an SEC-registered stock transfer agent. Securitize Capital, LLC is an exempt reporting investment advisor. Securitize Markets, LLC runs the alternative trading system and is SEC-registered and a member of FINRA and SIPC.
---
Photo by Sora Sagano on Unsplash
Read other stories: Unleashing Blockchain's Potential to Solve The Entertainment Industry's Toughest Challenges
New recommendations for reform and development of the law on digital assets to secure UK's position as global crypto hub