Blueshares Brings Forward a Security Token Offering (STO)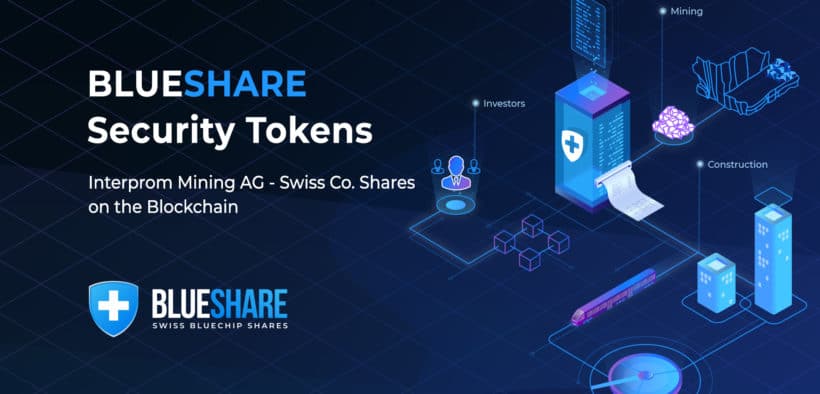 Blueshares brings forward a security token offering (STO), providing prospective investors with a seamless and quick way to own shares of a well-established and renowned company with decades of experience.
Blueshares represent tokenized traditional equity participation shares of Interprom Mining AG. The latter, incorporated in Switzerland is the majority owner of Interprom EOOD, a leading construction and mining company with 23 years of experience, holding 90% stake. Both companies are consolidated into a Group controlled by Interprom Mining AG.
Interprom EOOD boasts an impressive portfolio of successfully completed large-scale construction projects, including but not limited to complex urban infrastructure, wastewater purification plants, healthcare and educational facilities, power generation, road construction, and so forth.
The company is also in the process of executing the second stage of a 90 million euros subway construction project right at the heart of the capital of the European country Bulgaria.
Bluеshares: The Concept
Interprom Mining AG is regulated and incorporated under the laws of Switzerland where it has issued its Prospectus. The Prospectus is public, and all potential investors can refer to it in their assessment of investment opportunity.
The offering is in compliance with the Swiss Code of Obligations and Swiss Financial Markets Regulatory Framework of Anti-Money Laundering (AML) and Know Your Customer (KYC) screening requirements that are obligatory for all participants.
FUNCTIONALITIES PLANNED FOR 2019
Whitelisting: Onboarding and pre-approving of investors with respect to KYC/AML regulatory compliance in partnership with Geneva-based Altcoinomy.
Linking 300 Million BST tokens to 300 Million Interprom Mining AG equity capital participation shares.
Conducting the BST security token offering.
P2P and wallet to wallet transfers of Blueshares among all shareholders.
Flexible Buy / Sell Announcement bulletin board aggregating the announcements of users wishing to exchange Blueshare tokens in a P2P fashion.
Live communication channels among users to facilitate private P2P deal making.
OPTICASH – dividend pay-out both in fiat and crypto currencies – Euro, Bitcoin, Ether and Tether.
PLANNED LISTINGS ON COMPLIANT BLOCKCHAIN SECURITIES EXCHANGES IN 2019 and 2020
Signed MOU in place with Swiss SCX.CH exchange for listing Blueshare in August 2019, when SCX expects to receive its licenses.
Planned listing in at least three regulated, licensed and compliant blockchain securities exchanges by the end of 2019.
Planned listing in at least six regulated, licensed and compliant blockchain securities exchanges by the end of 2020.
The project's hard cap is set to EUR 128,000,000. The public offering's lasting period is 90 days. Interprom Mining AG will issue 300,000,000 security tokens – 80,000,000 will be offering at the cost of EUR 1.60.

The token/share ratio is 1:1, meaning that 1 security token is backed by 1 Equity Capital Participation Share. Investments are accepted both in fiat and cryptocurrencies – Euro, Bitcoin, Ether, and Tether. The token sale is expected to start on May 6th 2019.
The funds raised under the proposed security token offering will be used as a direct investment into the company's mining and exploration concessions.
For over the past 5 years, the company has been actively investing in natural resources exploration. The Company owns the exploration concessions for several sites in Bulgaria.
The estimated value of the exploration concessions is over US$ 4.3 billion. Additionally, the company has an indicative US$ 26.7 billion in potential forthcoming mining exploration rights with a main focus on Gold, Silver, Copper, Zinc and Lead.
Read More Articles here:
Danish DigiShares Launches Public STO
The Fundamental Reasons to be Bullish on BTC and the Crypto-sector