DeFi Summit
14jun(jun 14)08:0019(jun 19)19:00DeFi Summit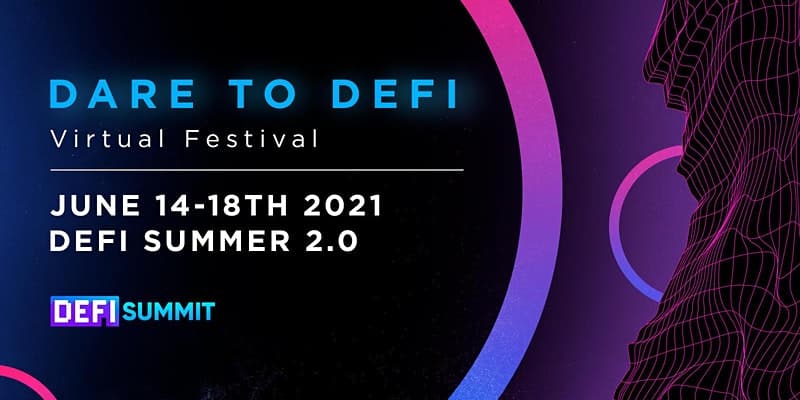 Event Details

DeFi Summit, the world's largest conference dedicated to decentralized finance is pleased to announce the dates and the first phase of speakers lined up for their inaugural virtual conference taking place in June. The "Dare to DeFi" event, which runs from June 14 to June 18 2021, will feature five days of live panels, fireside chats, and demonstrations.

DeFi Summit is now inviting everyone in the global cryptocurrency, NFT and DeFi communities to register for free attendance to the event. Talks and workshops will cover topics such as the growing non-fungible token (NFT) market, decentralized exchanges (DEX), wallets, decentralized autonomous organizations (DAO), oracles, yield farming, synthetic assets, insurance, security, lending, cross-chain development, layer 2s, and emerging decentralized finance use cases.

The conference will boast a stellar lineup of speakers delivering keynotes, panel sessions, and fireside chats. Speakers confirmed represent companies including Coinbase, The Graph, Unicrypt, Chainlink, Finance Vote, Polygon, Acala Network, Halborn, The Web3 Foundation, Harvest Finance, Liquefy and Liquefy Labs, Linear Finance, and Convergence Finance along with several prominent YouTubers including BitBoy, DataDash, and Cryptonauts.

Join us in the 5 day virtual Festival. Completely Free.
Monday: NFT Day
Tuesday: DeFi Conference Day 1
Wednesday: DeFi Conference Day 2
Thursday: DeFi Demo Day
Friday: Networking
Join us. Register for Free and get all access to our upcoming events.
more
Time

14 (Monday) 08:00 - 19 (Saturday) 19:00(GMT+02:00) View in my time