In a pioneering move that signifies a major leap in Taiwan's financial landscape, Cathay Securities has secured regulatory approval from the Financial Supervisory Commission to launch the island's inaugural Security Token Offering (STO) business. This development positions Cathay Securities as the first brokerage firm in Taiwan authorized to engage in the issuance of digital assets representing investments, heralding a new era in traditional finance and investment mechanisms.
Cathay Securities is set to mark this historic milestone with its maiden STO, financing the parent company of Green Point Energy Creation, a trailblazer in Taiwan's renewable energy sector operating under the banner of "Sunshine Volt Family." The STO, named "Sunshine Green Benefit Debt STO," is structured as a six-year debt offering with an annual interest rate of 3.5%, featuring yearly interest distribution and principal repayment at maturity. The fundraising target for this venture is ambitiously set at 30 million NT.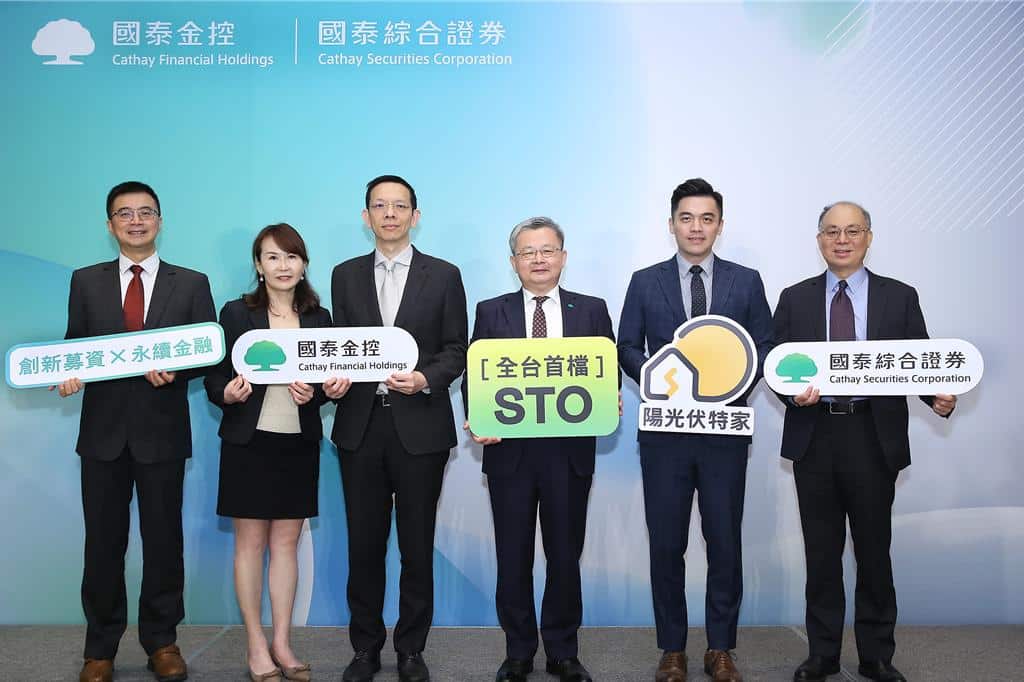 To entice institutional investors, Cathay Securities is presenting an attractive proposition: participants have the opportunity to acquire green electricity at competitive market rates, potentially elevating the annual yield to an impressive 5.8%. Interested parties can subscribe to this STO until December 8, with the official issuance slated for December 12, and subsequent trading activities will be facilitated through Cathay Securities' proprietary STO trading platform.
Innovating Taiwan's Digital Asset Landscape
Collaborating with the blockchain team at Cathay Financial Holdings' Fintech Development Center, Cathay Securities has developed a robust STO trading platform covering issuance, negotiation, reporting, settlement, internal control, and risk management mechanisms. This strategic initiative not only provides businesses with a groundbreaking fundraising channel but also signifies a departure from traditional stock exchange listings.
Cathay Securities has consistently prioritized customer needs by establishing a user-friendly digital investment platform that has garnered over a million clients. The introduction of STO services not only widens the investment horizon for clients but also unlocks novel fundraising avenues for companies operating beyond conventional listing frameworks.
As Cathay Securities pioneers Taiwan's entry into the world of STOs, the financial landscape is poised for a transformative shift, blending innovation with traditional financial mechanisms.
---
Photo by Sam Chang on Unsplash
Read other stories: Philippines Initiates Landmark Sale of Tokenized Treasury Bonds
World Tokenization Summit Returns for Second Edition: Focused on Real World Asset Tokenization in  Dubai