Liberty Selects Stonegate Securitize to Provide Fund Administration and Tokenization Services for the World's First Net Lease Security Token Fund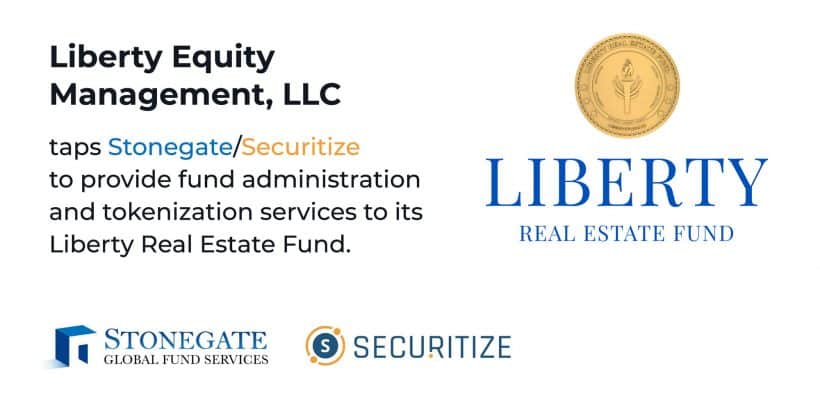 Liberty Equity Management LLC recently selected Stonegate Global Fund Services in partnership with Securitize to provide full-service fund structuring, administration and tokenization services for the World's First Net Lease Security Token FundTM.
According to Michael Flight, CEO of Liberty Real Estate Fund, "Over the past year and a half we vetted numerous fund administration and digitization service companies. The Stonegate Securitize partnership was a comprehensive solution for all of our needs to create, structure, deploy and administer our Security Token fund."
Liberty's Cayman and US fund structure will allow both US and global investors to participate in a diversified portfolio of Net Lease properties, while simultaneously providing investors with future liquidity through the Digital Security feature of the offering.
John McCorvey, Founder & CEO of Stonegate Global and The Catalyst Group (Cayman) stated, "Our service for structuring, tokenizing and administering digital security funds is a great solution for investment managers who are seeking to provide more flexibility and liquidity options for their investors. The Liberty team is well-experienced in commercial real estate and we're very excited that they selected the Stonegate/Securitize solution to deploy the first of its kind, net lease digital security fund."
Jamie Finn, Securitize President & Co-Founder, stated, "We're very excited to have been chosen alongside Stonegate Catalyst by Liberty as their technology provider and digital transfer agent. Our technology platform enables investors to quickly and easily onboard and subscribe with minimal friction."
ABOUT LIBERTY REAL ESTATE FUND
Liberty Equity Management, LLC is the Investment Manager for Liberty Real Estate Fund. The Liberty portfolio is designed for investors to achieve: Geographic Diversification; Industry Diversification; Tenant Credit security and consists of hard assets that have intrinsic value. These Net Lease properties have long term contractual rents backed by some of the world's largest and best brand name, exceptionally well capitalized companies. Liberty describes the properties as "Corporate bonds wrapped in real estate". libertyfund.io
ABOUT STONEGATE GLOBAL FUND SERVICES
Stonegate Global is one of the world's leading institutional fund administrators for Cryptocurrency Funds, Blockchain Technology Funds, and Digital Security Offerings for Real Estate and Private Equity Funds, having been involved in the asset class since 2014. Stonegate Global has built a sophisticated technology infrastructure for providing fund administration services to highly-complex institutional cryptocurrency and digital security structures for real estate, private equity, and venture capital offerings. StonegateGlobal.com
ABOUT SECURITIZE
Securitize is reinventing private capital markets by delivering trusted end-to-end security token solutions that leverage our leading blockchain technology, which increases access to private markets for eligible investors while simultaneously making them more efficient, compliant, and liquid. Securitize is an SEC-registered transfer agent and its subsidiary, Securitize Markets, LLC, is an SEC and FINRA registered broker-dealer and alternative trading system (ATS). Securitize.io
---
More Articles:
Liquefy Joins Amazon Web Services (AWS) Partner Network to Offer Real Asset Tokenization Solutions
Tokenization of classic cars: revival of a hidden gem for financial asset diversification?