Pre-subscription contracts which will see Alty delivering NFT-Marketplace capabilities into Whatsapp, Telegram, and Discord
Alty, making chat more functional. A leading innovator of bringing applications to chat and promoter of WEB3 adoption, today announced that it has executed pre-subscription agreements with Dartroom and Shufl, two Non-Fungible Token (NFT) marketplaces of the Algorand eco-system to subscribe for Alty's upcoming NFT-Marketplace Instant Messenger Application (IMapp) solution.
Alty's NFT-Marketplace IMapp will allow Whatsapp, Telegram, and Discord chat users to perform all customer-facing activities of browsing NFT inventory, bidding on NFT auctions, purchasing NFT, and funding NFT transactions directly in chat. It will give Dartroom and Shufl an ability for viral user acquisition via group chat engagement, sharing and posting of system outputs on social media, one-click activation, and immediacy of action for the NFT-Marketplace users.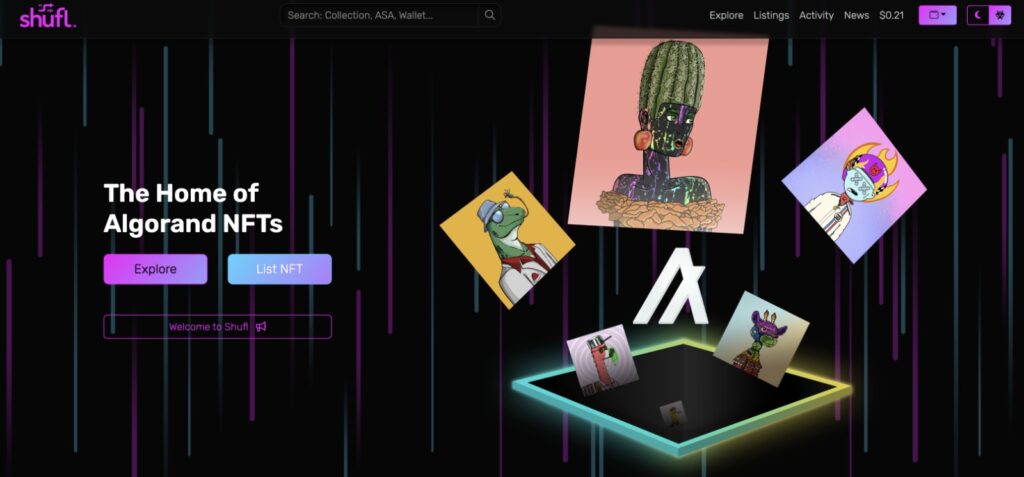 Dartoom and Shufl's agreements signify a market indication from NFT-Marketplace operators for the need to engage their users directly in chat and enhance user acquisition in support of mass market adoption. It is part of the Alty strategy to launch Alty1 IMapp marketplace in Q2/23 thus enabling fast release of multiple applications and use-cases into chat.

Supporting Resources
---
About Shufl
Shufl is an NFT marketplace dedicated to empowering NFT creators and communities building on Algorand while using the platform to drive real world impact and support the growth of the Algorand NFT ecosystem.

Inspired by Algorand's carbon negative approach Shufl supports the Gilbert Goanna Tree Fund by donating 2.5% of platform fees to The Fund. Shufl believes NFTs can and should be used to drive real impacts and are proud to play their part to help change the narrative that NFTs are bad for the environment. Shufl has also committed to sharing 7.5% of platform fees with the Goanna DAO. This sustainable source of income will allow this community DAO to continue to pioneer the development of the Algorand NFT ecosystem. To learn more, visit https://shufl.app/.
About Dartroom
Dartroom is a curated and artist-focused NFT marketplace on the Algorand network, providing an easy-to-use platform for artists to start their NFT business. Currently, the Dartroom team is hard at work building out the next version of Dartroom. But you can already use Dartroom's existing v1 version today at https://dartroom.xyz and start minting and collecting NFTs on Algorand.
About Alty
Alty is an all-in-one platform powering the world's growing community population. With Alty, influencers, brands, and organizations can bring crypto into their community within minutes to enable engagement generation and monetize online followers. Alty utilizes leading edge automation technology to provide a blockchain-agnostic fully functional multi-coin wallet.
Available on WhatsApp, Telegram and Discord. Available as a user-friendly chatbot and community management web portal, Alty helps crypto communities seamlessly scale their groups through easy onboarding and management, exclusive crypto/DeFi offerings, and more.
Alty platform represents its unique intellectual property which enables runtime execution of a wide variety of Instant Messenger applications supporting a wide variety of cross industry use-cases. To learn more, visit https://alty.com.
Alty's Forward-Looking Statement
This press release includes information that constitutes forward-looking statements made pursuant to the safe harbor provision of the Private Securities Litigation Reform Act of 1995, including statements about Alty's growth and business results in future quarters. Although we believe the expectations reflected in such forward-looking statements are based upon reasonable assumptions, we can give no assurance that our expectations will be obtained or that any deviations will not be material. Such statements involve risks and uncertainties that may cause future results to differ from those anticipated. These risks include, but are not limited to, the effects of general economic conditions, Alty's ability to grow in the business markets that it serves, Alty's ability to successfully integrate acquired businesses, adverse effects of market competition, rapid technological shifts that may render the Company's products and services obsolete, potential loss of a major customer, our ability to develop long-term relationships with our customers, and risks associated with operating businesses in the international market. Alty may elect to update these forward-looking statements at some point in the future; however, the Company specifically disclaims any obligation to do so.
Media Contacts
Tishen Pearson
Alty Public Relations
E-mail: [email protected]
---
Read other stories: Europe NFT Market Intelligence and Future Growth Dynamics Report 2022
Multi-Billion Dollar Real Estate Developer to Tokenize Over $3MM Worth of Real Estate